Hamilton Home & Commercial Inspection
jk Home & Commercial Inspections Services – BCIN Design, Building Advice, Building Code Consultant, Building Permit Application, Fire Safety Plans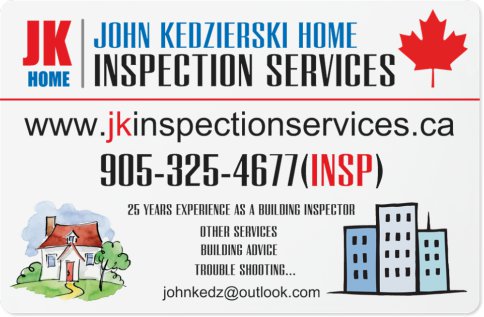 Hamilton Home & Commercial Inspection
Contact John Today!
jk Home and Commercial Inspection Service is fully insured for errors and omissions and liability.  Before you hire anyone else ask to see proof of insurance.
28 Years of experience as a Building and Plumbing Inspector for the City of Niagara Falls. Get the "JK Advantage".  (Education – Qualifications – Experience.)
Receive a Professional Inspection at a competitive price.  No franchise fees, free books or hidden costs for you to pay.
Are you considering an addition, renovation, alteration? Maybe an upgrade to your existing home, don't know where to start?   Do you need  advice, but don't know who to ask?  Call me.  I'll explain your options and offer you ways to save your money.  Do yourself a favour,  call me today.
Hamilton Home & Commercial Inspection
BCIN Design, Building Advice, Building Code Consultant, Building Permit Application, Fire Safety Plans